Dallas has been rereading The Sandman in anticipation of the upcoming Netflix series. Impossible Jones! , Chris Claremont, Alan Davis, The Strange Death Of Alex Raymond and Groo The Wanderer are discussed in the midsection, while Rook's miniature painting and Fantastic Four 35 takes up the end.
MUSICAL SPOTLIGHT: Joyeater
The Sandman: Preludes And Nocturns By Neil Gaiman,
Sam Kieth, .Mike Dringenberg And Malcolm Jones III.
The Sandman From Netflix.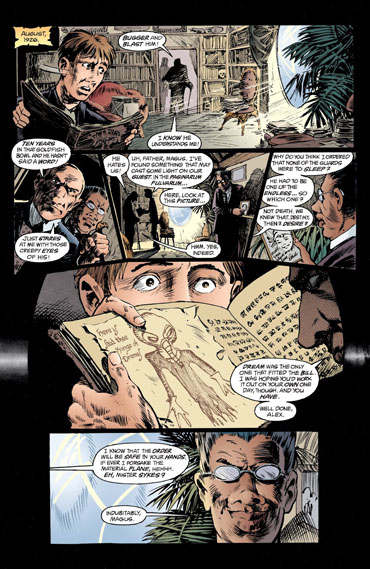 The Sandman Drawn By Sam Kieth.
The Sandman And Sandy The Golden Boy.
The Sandman From 1974.
The Sandman: Overture By Neil Gaiman And J.H. Williams.
Norse Mythology By Neil Gaimen And P. Craig Russell.
Impossible Jones! 1 By Karl Kesel And David Hahn.
And Here Is The Scout Comics Cardboard Vending Machine.
X-Men Legends 12 By Chris Claremont With A Cover By Alan Davis.
Clandestine By Alan Davis And Mark Farmer.
Savage Hulk By Alan Davis Page Layouts.
Sgt. Rock: The Prophecy By Joe Kubert.
Glamourpuss By Dave Sim.
The Strange Death Of Alex Raymond By Dave Sim And Carson Grubaugh.
Rook's Miniature Painting.
Kang The Conquorer And Immortus.
Warlord. From Fantastic Four 273.